Brian Leonard Golightly Marshall

Brian is based out of Melbourne Australian and is the inventor of magnetic motor technology. As well as funding problems and suppression experiences Brian also has had to endure a refusal of a patent from the Australian patent office.
"Thus far I have attempted to patent it here in Australia, however the Australian Patent Office declares it is impossible, and will not consider it point blank."All details are on CAD programs and can be easily duplicated anywhere in the industrial world. Naturally I have taken steps to dump these into the public domain if it is necessary. All plans and manufacture procedures are safely stored away so no action against me can prevent public disclosure if the conditions warrant it. The power is derived from a new understanding of the Fibonacci effect.
Panacea is looking into reform of the Patent office and to further advance education.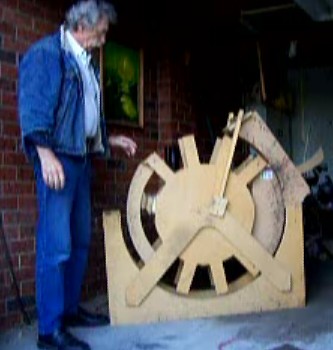 Brain and his magnet motor prototype
So Far Brian is willing to present the technology under a non dislcosure agreement ONLY due to the Australian and others choice to refuse a World Patent. Brian currently requires investors support.
Brians -You Tube Videos
Brian Leonard Golightly Marshall Magnetic motor
Magnetic motor Brian Leonard Golightly Marshall
Brian is underfunded like all the engineers in the registerd technology section. Despite Brian having a working available device, his scientific find has no faculty recognition, and he is further unable to get mainstream media to present his findings.
Brian's contributions need a grant backed research and development environment to flourish and will be submitted into faculty study in Panaceas proposed granted research and development centre.
This systems can allow for pure clean free energy.Brian is unable to finace the units himself like the rest of the registered technolgies presented.Panacea will pledge Grants and engineers support towards Brians R & D once granted.
If you're a member of the public or a scientific group who can aid in grants for the centre or help Brian please contact Panacea.