Krisztina Sulyok is the general manager of Energy By Motion (EBM). Their staff have a very sobering reality to express, 'who said we cannot save the environment? This statement can be backed up by their energy by motion device - This device is still today under open house and can be seen by any body at their lab in Budapest.
Quote-Free Energy:We are routinely producing with our EBM Power Plants several kilowatts well over unity without any pollution and emissions whatsoever!All our EBM Plants are scaled for manufacturing from 1.5 to 225 MW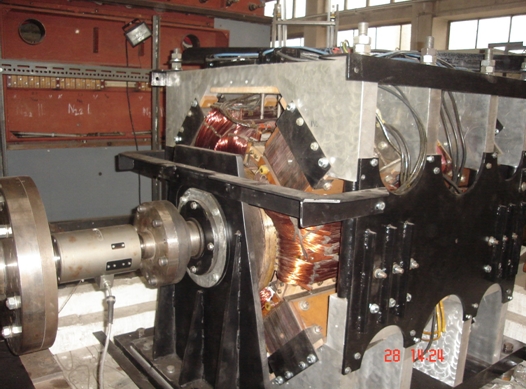 The EBM device displayed under open house at their lab in Budapest
The EBM device located in their open house lab in Budapest
The self-reliant EBM plant uses its own self-generated electromagnetic fuel. The research and development work of this hi-tech technology began in 1980 in four laboratories in Toronto, Houston, London and in Budapest, managed for ELECTRO ERG LIMITED (EEL) by the GAMMA Group, under Professor L. I. Szabó's leadership. This technology is non-nuclear, 100 % environment friendly with zero emissions- End quote.
EMB have certified tests proving the energy efficiency of their device. EMB have completed twenty years of long R & D efforts at considerable costs and NEED HELP towards making the EBM (Energy By Motion) technology available around the globe.
A special thanks to MareaSistemi from Italy (Website) for the English and Itallian summery of the EBM device -Link
Despite EMB having a working available device, their scientific find has no faculty recognition and they are further unable to get mainstream media or faculties to present their findings.
EBM's contributions need a grant backed research and development environment to flourish and will be submitted into faculty study in Panacea's research and development centre. Panacea's R&D Centre could also help train and educate english speaking physicists, mathematicians, computer scientists and engineers to master the EBM Technology
Krisztina Sulyok the general manager in Budapest, Hungary has offered to train people via their well equipped Lab and research center using their operating "over the unity" Midget Power Plants.
In addition to training scientists, EMB has stated they would support Panacea with a given percentage of our global income derived from installations of the EBM Power Plants. Note- Panacea is a NON PROFIT organization which would be able to put ALL revenue raised back into its environmental projects.
Panacea's proposed non profit granted infrastructure is not only important to police any faculty neglect or worse. It is also imperative to assist inventors with the validation process and help upgrade the faculties curricular with out interference. Even if the Lutec device does not make it to the domestic market because of a failed business model. A new faculty specific for the new free energy engineering genre is still required to study, teach and preserve their new scientific discovery.
What security is in place to preserve and study this knowledge if their company folds? Does the education system get upgraded with their new discovery? The principle has profound implications for humankind - To create energy independence and sustainability. Not to mention important in understanding the universe, ourselves and advancing education.
If these devices do make it to the market, does the commercial release ensure that the circular advances its education with the FREE energy device? The Panacea proposed granted non profit research and development center is intended to ensure the free energy principle is held in a public trust - This can additionally achieve remuneration for the inventors by the study of the device. All of which can still protect their intellectual property.
Their contributions can be secure and progress in real time in a grant backed research and development centre environment. Conditons that are specific for this task. If you're a member of the public or scientific group which can aid in grants for the proposed granted non profit centre or help or help EMB please contact Panacea.