Electric boat motors were in use from as early as 1900- 1910. In fact a news paper from Germany shows electric cars in the year 1937.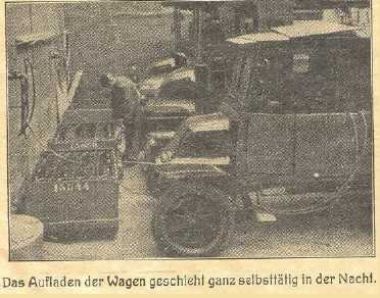 Taken from the article
The newspaper is from a company called "sterrechische Kraftwerke AG", that means "Austrian powerplant company". There are also electric trucks shown in this Newspaper. The trucks featured in this newspaper story can carry 6000 kg with a range of up to 80 kilometers! An electric car in our time cannot carry more with the same range.
Electric cars much like Hydroxy boosters, Air compressed motors, and the GEET technology can all produce less to no emissions and give better fuel economy then regular gasoline vehicles TODAY. Please review Panacea's Fuel saving vehicle modifications document for both a legal and practical way to address this situation.
Panacea has included a do it your self EV conversion course located on our online university. GM's EV1 electric car has a detailed history of suppression. Please consult this page for the full story.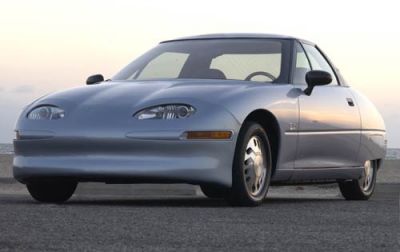 Gm's EV1 electric Car.
Introduciton by Leslie R. Pastor.

GM had the EV-1 Electric Vehicle and had them crushed into small cubes to be forgotten forever.To a degree the EV-1 lives Again. Inventors, tinkers, garage mechanics and all purpose do-it-yourselfers are reviving and rehabilitating the ultimate dream mobile, the Electric Vehicle.

Video's:
EV-1: It's the Battery Stupid (Stan Ovshinsky)

The only problem that exists currently stopping the EV-1 are the oil companies,who do not want self-powering batteries.This would eliminate the need for oil/gasoline as fuel in combustion engines. With an electric car, there is no combustion, only pure electro-motive power.

With the right battery this car will endure till the end of time. View the video again and you will see the reality of this: Link

The oil companies simply don't want this to happen. Stan Ovshinsky built a very good battery for the EV-1, but GM bought it and then sold it to the oil companies. Talk about a control paradigm. "Oil companies Fearful of losing business to a competing technology, they supported efforts to kill the ZEV mandate. They also bought patents to prevent modern NiMH batteries from being used in US electric cars". -Reference.

Further Quote- Patent encumbrance of NiMH batteries

In 1994, General Motors acquired a controlling interest in Ovonics's battery development and manufacturing, including patents controlling the manufacturing of large nickel metal hydride (NiMH) batteries. In 2001, Texaco purchased GM's share in GM Ovonics. A few months later, Chevron acquired Texaco. In 2003, Texaco Ovonics Battery Systems was restructured into Cobasys, a 50/50 joint venture between Chevron and Energy Conversion Devices (ECD) Ovonics.[11] Chevron's influence over Cobasys extends beyond a strict 50/50 joint venture.

Chevron holds a 19.99% interest in ECD Ovonics.[12] Chevron also maintains veto power over any sale or licensing of NiMH technology.[13] In addition, Chevron maintains the right to seize all of Cobasys' intellectual property rights in the event that ECD Ovonics does not fulfill its contractual obligations.[13] On September 10, 2007, Chevron filed a legal claim that ECD Ovonics has not fulfilled its obligations. ECD Ovonics disputes this claim.[14] NiMH patent expires in 2015.

In her book, Plug-in Hybrids: The Cars that Will Recharge America, published in February 2007, Sherry Boschert argues that large-format NiMH batteries are commercially viable but that Cobasys refuses to sell or license them to small companies or individuals. Boschert reveals that Cobasys accepts only very large orders for these batteries. When Boschert conducted her research, major auto makers showed little interest in large orders for large-format NiMH batteries. However, Toyota employees complained about the difficulty in getting smaller orders of large format NiMH batteries to service the existing 825 RAV-4EVs.

Since no other companies were willing to make large orders, Cobasys was not manufacturing nor licensing any large format NiMH battery technology for automotive purposes. Boschert concludes that "it's possible that Cobasys (Chevron) is squelching all access to large NiMH batteries through its control of patent licenses in order to remove a competitor to gasoline. Or it's possible that Cobasys simply wants the market for itself and is waiting for a major automaker to start producing plug-in hybrids or electric vehicles."[15]

However, recently-signed Cobasys contracts demonstrate that the company is willing to use its NiMH technology in the automotive industry, specifically for use with hybrid electric vehicles. In December 2006, Cobasys and General Motors announced that they had signed a contract under which Cobasys provides NiMH batteries for the Saturn Aura hybrid sedan.[16] In March 2007, GM announced that it would use Cobasys NiMH batteries in the 2008 Chevrolet Malibu hybrid as well. Cobasys remains unwilling to sell NiMH batteries in smaller quantities to individuals interested in building or retrofitting their own PHEVs.Saft offers an NHE NiMH Module Has capacities of 100Ah and 200Ah.Tianjin peace Gulf Power Group Co. offers NiMH in their HP-280QNF line of 40Ah , 80Ah , and 100Ah.-End Quote

Further EV1 Service Technician Bob Sexton explains how the electric car's "regenerative braking system" works, so that,when the driver eases up on the accelerator, the engine slows the car down. As a result, an electric car's braking system never needs to be serviced. Many argue that the "disruptor" effect of a car that hardly ever needs partsand service (because it has no engine) threatens the car industry more then anything. Of course, consumers would benefit.Bob explains about all the different mechanisms that a gas engine requires that the electric motor doesn't need, such as tailpipes, mufflers, or a catalytic converter.
Even Today there is still opposition to EV's.
This Technoology can be ressurected. This technology can also be improved with a solar charge sterling engine option. Many tweaks and improvements can be done to improve on the range. The proposed granted Panacea research and development center is a realistic way to operate at capacity and get this information out to people. The center ensures that the [faculty] information will be wide spread and thereby can not be suppressed. The center will provide an avenue to advance education of these and other systems which mainstream faculties remain un accepting and or unaware of.

Despite the EV1 being a working available device, this scientific find has no faculty recognition, and the majority of the public do not know this story. Also faculties have NO access to the technology to present these findings. Further there is virtually unknown technology like the Bedini process, which hasenvironemntally friendly chargers that can make EV's greener.

All these contributions need a grant backed research and development environment to flourish and will be submitted into faculty study in the proposed Panacea research and development center. If you're a member of the public or a scientific group which can aid in grants for the center or help the ressurection of the EV1 technology please contact Panacea.

Further Research and "DYI" EV project Links
ELECTRIC VEHICLE SURGE TECHNOLOGY